P1TS Strat 2 - Nov 3, 2021
When Strat 2 is started, this additional screen prompts you for session specific data. In our examples, we've used the following values for the 2020 IMSA IMPC Road America Race:

Max Laps in Stint - 18 laps
Average Pit Lane Time - 1m 35s
Green Lap Time - 2m 32s (not shown - from Strat 1's Welcome screen)

These are all values that you supply.
1. Pits and Stints
The Pits and Stints panel plots competitors's completed and predicted pit stop and driver change strategies on a time line.
The x-axis plots the session time. Caution periods are marked by yellow or red vertical bands.
Each row's bars are divided in time by pit-in and pit-out. Individual colored bars depict either driver stints or time in pit lane (tall

dark red

box).
Driver stint bars are color-coded by driver number, with number of laps and stint times shown.
Finish is currently timing and scoring's finish time. It does NOT predict the overall leader's finish time.
Future Lap completions are predicted at Green Lap Time intervals.
Future Pitstops are predicted at Green Lap Time x Max Laps in Stint intervals for Average Pit Lane Time duration.
Vertical pit-in/pit-out rules for Back-timed pit stops

P◀

are plotted at Green Lap Time x Max Laps in Stint intervals from the Finish.
Vertical Milestone rules for certain series may be configured (not shown).
Pressing "Reinitialize Chart" after a session begins repairs any possibly missing display components.

Example's Commentary
Two sets of back-timed rules from the 2 hour finish are shown:

Each set of pit-in and pit-out rules has Average Pit Lane Time 1m 35s spacing (as are all future pit stop boxes)
Between each set of rules there is Green Lap Time x Max Laps in Stint spacing (2m 32s x 18L = 46m 30s)

Car No. 3 has not made its final stop yet. If it drives an 18L stint, it will stop on L36.
Car No. 3's finish crossing after the 2 hour mark is at L49, session time 2h 17s.
Car No. 4 would finish after the 2 hour mark in +16 laps on L50 according to the future markers and labels.
Hero car No. 7 is first to pit last, +18L before the finish. Thus a future pit marker appears right after the 2 hour mark.
---
2. Pace
The Pace table shows the most recent pace of each car, comparisons to the hero, and naive predictions of the ETA when an overtake might occur based on pace. This may be useful for detecting undercut and possibly overcut threats and opportunities. A simple hero-centric color coding is used:

Green

: Catching leaders,

Red

: Threat from behind
Pace column: Average lap time, for the specified number of laps (3).
±Pace column: Difference between Hero & selected cars whose pace is

faster▲

(bad) or

slower▼

(good).
±Gap column: S/F time gap between Hero & selected cars ahead + or behind -.
+ETA column for cars ahead: Time Hero will catch up to

slower▼

(good) cars ahead.
+ETA column for cars behind: Time

faster▲

(bad) cars will catch up to Hero.
Best Tm column: Best lap time for entire session.
Stint Tm column: Time in current driving stint (or 'Pit').
Trend column: 10-Lap Time Trend sparkline ± bar chart relative to Green Lap Time

Blue

: Delta Faster than Green Lap Time

Orange

: Delta Slower than Green Lap Time

Gray

: Pit In/Out lap time excluded

|

: 3-Lap Pace divider

Lap Tm, Lap Tm -1, etc. columns: Most recent lap times (and their sparkline bars) for Pace calculations. Gray if lap time is not used to calculate Pace (pit in/out laps are grayed, but yellow laps are not yet grayed).
Laps column: Last completed lap number.

Example's Commentary
Two of the four cars ahead of hero No. 7 have a slower Pace than the hero and thus have

Green

color (No. 60 and 95).

Car No. 60's pace is 0.649 sec per lap slower than the hero's, however it is 29.844 sec ahead. At this pace, the hero would catch up in 1 hr 47 min 2 sec which is longer than the remaining time, thus +1:47:02 is greyed.
Car No. 95's pace is 0.213 sec per lap slower than the hero's, and is 2.497 sec ahead. At this pace, the hero would catch up in 27 min 14 sec, though it may not have enough fuel to do so - future pit stops are not yet factored in.

Of the visible cars behind the hero, only No. 4 has a pace faster than the hero and is a possible threat.

No. 4 is 0.878 sec per lap faster and is 0.835 sec behind the hero. Its ETA is 2 min 11 sec (next lap) so the threat is real.
Imagine if No. 4 were not in close proximity to the hero, due to pitting off sequence. An undercut attempt might be seen by examining red ETAs and their car's remaining stint times (not shown).

No. 3's

blue bars

in its Trend sparkline quickly shows its last 5 laps were faster than 2:19 (changed from 2m 32s above).
---
3. Fastest Single Laps
The Fastest Laps table helps compare sector performance between cars.
Each car's best lap and its sector times are displayed.
In this dataset, the fastest times are highlighted with a purple background.
Pressing Show Deltas to Hero will result in the following:

Absolute sector times are replaced with deltas relative to the hero.
Sector times faster than the hero's will be heat mapped in green.
Sector times equal to or slower than the hero's will remain undecorated (otherwise too noisy).
To find which sector you need to improve, look for columns with the greatest number of deep green cells and compare their deltas to the hero's absolute times to see if it is a significant percentage.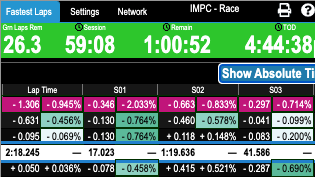 Example's Commentary
In this data set of sectors from each car's best laps, S01 (short 17 sec sector) appears to be the hero's slow sector.
Car No. 3 is 0.346 sec (of 17.023 sec) faster than the hero, or 2.03% (0.346 / 17.023) faster.